Welcome to the Paul Brunton Philosophic Foundation
This Website serves as the online resource for Paul Brunton's extraordinary wisdom-teachings. We are dedicated to assisting you in your spiritual quest and have designed this site to aid you with your journey. Go to A Good Place to Begin and Frequently Asked Questions to discover ways to put this living wisdom into your life.


About Paul Brunton (PB)
Paul Brunton's (1898-1981) remarkable life was in service to wisdom. He was born in the cultural center of London, and his introspective and mystical sensitivity soon led him East, first to India and Egypt, and then around the world to explore spiritual traditions and meet with teachers. Blending his own inner inquiry with ancient and contemporary teachings, PB, as he liked to be called, developed a philosophy and path of practice that suits life in the 21st century, one that expresses the greatest wisdom and love available to humankind—the Wisdom of the Pure Mind and the Love of our own Higher Self.

A lifetime of both inner and outer research enabled Paul Brunton to bring the sacred teachings of the East to the West and make them understandable to the heart and mind. His writings provide spiritual seekers, whether affiliated with a particular path or not, a guide full of wisdom, beauty, and grace that will carry them forward in their quest to realize that greatest of all treasures, their own Higher Self, Soul, or Overself. Find out more about PB's life >>
Please note: Paul Brunton wrote when the convention was to use "he" rather than "he or she," but certainly he intended these teachings for everyone drawn to study them.

About the Teachings and Publications
The Complete Archives of Paul Brunton, Now Available Online at www.PBarchives.org
We are thrilled to announce that the complete digital archives of PB are now available for you to browse and study from the convenience of your computer, tablet, and smart phone! When Paul Brunton died in 1981, he left a large literary and personal legacy. This archive has become available to the public in both the physical original and now digital form due to many years of effort by PBPF archivist Timothy Smith and his staff. In 2018, Cornell University acquired the physical collection of original documents which are now available to read in Cornell's Division of Rare and Manuscript Collections (Carl A. Kroch Library) on campus. The digital archive contains all these original documents as well as a text searchable version of most of the files! There are five major series in The Archives of Paul Brunton to explore: Philosophic writings; Biographical Materials; Letters; Visual Media; PB's Travel Library.
Read "The Notebooks of Paul Brunton" Online!
Click here to read and search the free and complete Notebooks. For people who are drawn to these spiritual practices, a careful study of The Notebooks of Paul Brunton will provide all of the tools you need for a daily—and lifelong—spiritual adventure. All of the Notebook volumes can be purchased at our store and digital eBook editions are available from major online book retailers such as Amazon and Barnes & Noble. To derive the most benefit from the Notebooks, please read "A Note on the Notebooks."
From vol. 12 of The Notebooks:

"Aspiration which is not just a vague and occasional wish but a steady settled and intense longing for the Overself is a primary requirement. Such aspiration means the hunger for awareness of the Overself, the thirst for experience of the Overself, the call for union to the Overself. It is a veritable power which lifts one upward, which helps one give up the ego more quickly, and which attracts Grace. It will have these desirable effects in proportion to how intensely it is felt and how unmixed it is with other personal desires."

Listen to an Introduction to PB's Teachings!
Click here to listen to selections from The Inner Reality and The Secret Path read by Christopher Reeve.
Read PB's Teachings in Many Languages!
Here you can read over 4000 selections from The Notebooks of Paul Brunton in each of 19 languages.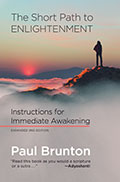 Expanded New Edition! Paul Brunton Teachings on the Short Path
The Short Path to Enlightenment:
Instructions for Immediate Awakening

"Read this book as you would a scripture or a sutra and let it open your eyes to eternity."- Adyashanti

"This book is alive with supreme knowledge. May it support you in immediately and continually recognizing yourself."- Gangaji

Instructions for Spiritual Living

Instructions for Spiritual Living Also available as an audiobook!

"Mature seekers need mature advice and Paul Brunton provides this. I have often said one needs to be quite mature spiritually in order to use a true spiritual teacher or master wisely." —
Jacqueline Longstaff, author/teacher
An eBook Edition of The Spiritual Crisis of Man (new title too!)

Humanity's Spiritual Crisis: Transforming Ourselves to Heal the World

"Paul Brunton was a great original and got to a place of personal evolution that illumines the pathways of a future humanity." —
Jean Houston, author
The Definitive Paperback Edition of The Inner Reality
(with free study guide)
The Inner Reality: Jesus, Krishna, and the Way of Awakening

"Paul Brunton is surely one of the finest mystical flowers to grow on the wasteland of our secular civilization. What he has to say is important to us all." —
Georg Feuerstein, author
The Definitive Paperback Edition of A Search in Secret Egypt

"Believe it or not, this book will thrill you." —
Walker Matheson, Washington Post
Realizing Soul: From Intuition to an Inspired Life (with free study guide)

Realizing Soul: From Intuition to an Inspired Life

"Paul Brunton's observations, spiritual insights, and pointings reveal a laser-sharp eye that directs us back to . . . the Divine Self." —
Mooji
The Definitive Edition of The Hidden Teaching Beyond Yoga
The Hidden Teaching Beyond Yoga: The Path to Self-Realization and Philosophic Insight, v.1

"Paul Brunton…has sought to throw a bridge across the chasm which separates yoga and pure ancient philosophy for searchers in the West." — Dallas Times-Herald
The Definitive Edition of The Wisdom of the Overself
The Wisdom of the Overself: The Path to Self-Realization and Philosophic Insight, v.2

"A person of rare intelligence... thoroughly alive, and whole in the most significant, 'holy' sense of the word." — Yoga Journal
An extensive FAQs section!
Five Central Ideas of Paul Brunton's Writings:

Five Practices for the Quest:

Paul Brunton Daily Quote
" The magnificent spectacle of the universe does have a meaning but it is only discoverable when we put such prejudices aside and accept the deliverances of analytic reason concentrated in its impeccable and searching quest." MORE...